Instantly, you'll have access to training on a variety of marketing strategies both online and offline – starting with our How to Profit with Direct Sales Fundraisers, and then moving on to Creating a Home Party Theme System, learning how to Sponsor successfully, making the most of retail events, errand marketing, printables for hostess coaching and follow up, templates to organize your business and your home life, and hundreds of party games.
This training and these resources will you an edge over your direct sales sisters: an edge of knowledge. All of these materials are provided digitally. You'll  have videos to watch and worksheets and templates – I don't have to tell you that all this will make running your business a lot more fun (and profitable, too!)
Together, this training and printables are currently being sold on the Promoting Direct Sales website collectively for more than $1,200 – don't worry, your investment won't be anywhere near that – but here's the thing – we're adding more and more resources every week, and Consultant's Key holders will have access to all of our future training and resources.
If fact, there's actually more than would fit in the picture here available right now! But it's so much more than just training and templates.
Our Consultant's Key Holders will also have lifetime access for up to three different companies with our Directory Sponsorship. We have an aged and high ranking directory page with a list of direct sales and network marketing companies, and you'll have a full page devoted to your business, linked from that page!
That's one page per company, and you can have 3. And if you ever change companies, no worries. Just fill out a change request and we will swap one out for you.
But our directory sponsors get more than their name listed on our directory – you also have the ability to submit a rotating banner ad that will show up at the top of ALL pages on PromotingDirectSales, that links directly to your website.
And, our directory sponsors enjoy additional Facebook Group Privileges – the ability to have pre-approved posts, no posting limits, and the ability to advertise events and add video. Our Facebook group has more than 35,000 members.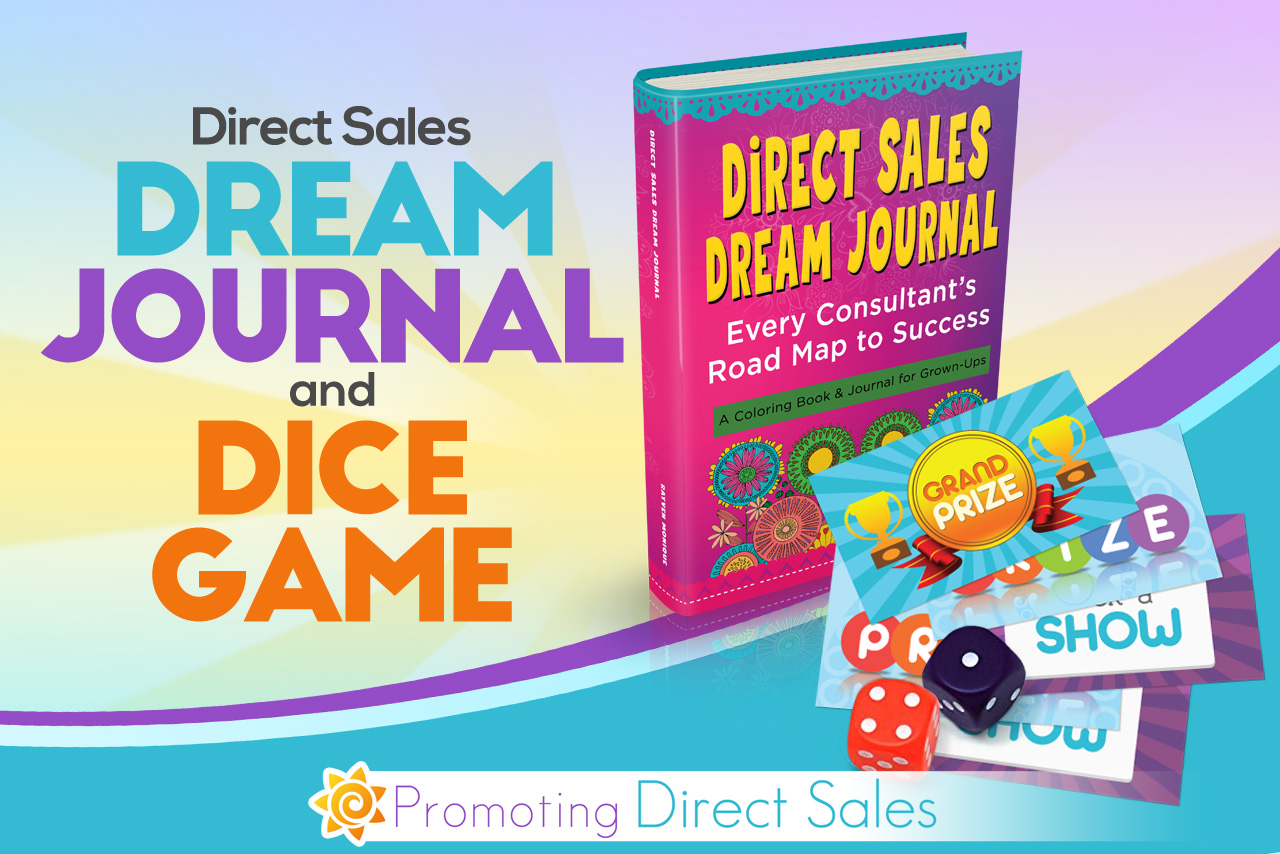 Plus, right now, all Consultant Key Holders will receive a gift pack, sent snail mail anywhere you are in the world, filled with 5 physical copies of the Direct Sales DREAM Journal. These make fabulous incentives for your team members, or welcome gifts for new recruits.
And if you haven't started to build a team yet, well, one of the training modules is our Direct Sales Sponsoring Success – it will help you get rolling and getting yeses right out the door!
You'll also get 5 copies of our Dice Booking Game, which is a way that you and your team can triple your bookings at every party. All of this comes to you with free shipping.
And finally, our Consultant Key Holders will be invited to book a 1-on-1 private coaching call directly with Direct Sales Coach Rayven Monique. We can go over your ideas for home parties, or marketing your business online, or any offline direct sales interests. Have questions on sponsoring? Rayven can help. Want to get clear on what's holding you back? She'll take a look.
The only thing she can't do is give you legal advice. This 20-minute call is a bonus for our Consultant Key Holders. Look for a private email from Rayven directly to invite you to book your call once you've signed up.
What Consultant's Key Holders Get:
Personal Use Access to ALL Promoting Direct Sales's Current Digital Products (a $1,200 value)
Personal Use Access to ALL Promoting Direct Sales's Current Future Products (unlimited value)
Lifetime Direct Sales Directory Sponsorship for up to 3-Companies ($444 per year value)
10 Physical Copies of Direct Sales DREAM Journal & Dice Game Mailed Worldwide ($159 value)
20-Minute 1-on-1 Coaching Call with Rayven ($99 value)
One-time purchase. Instant access. Login after purchase here.
Total value: well over $2,000 now,
Get complete access NOW for the unbelievable price of just $497 $397!
One-Time Payment
$397

P.S. – We do have a 2-pay available. The best value is the single payment, but we didn't want anyone to miss out on this because funds are tight. You'll see the 2-pay option when you click the Add to Cart link above. Please note that with the 2-pay option, only half of the resources are available with your first payment, and the other half with your second.