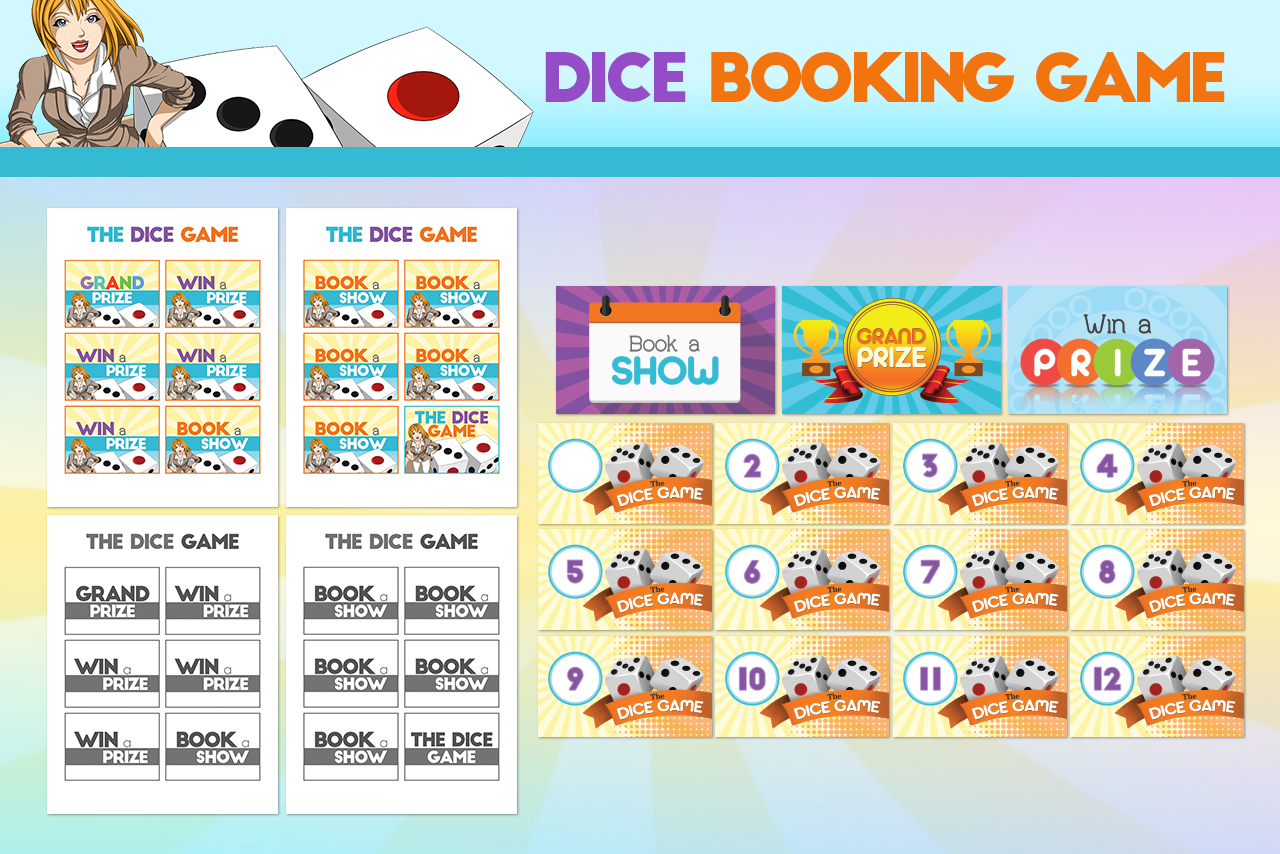 Dice Booking Game Kit
One of the most common reasons that home party consultants do not get party bookings is because they are afraid to ask for the sale. Now you can be their hero as you share a fun, practical party game that makes booking more parties as simple as rolling the dice!
Here's how to play:
At the party, the consultant will let guests know that they have a game to play, but that it is totally optional. She'll explain that each guest who would like to play the game may roll the dice and pick the card that corresponds to the total on the dice.
Their card may say win a prize, in which case they'd get a party game gift. It may say Grand Prize, in which case they'd get a larger gift. Or, it may say Book a Show. For those who draw Book a Show, they are required to book a party immediately and get a set date on the consultant's calendar.
She'll explain a second time that this game is optional, and that those who do not wish to hold a party should not roll the dice. But all others, good luck!
The Dice Game is an excellent way to get over nerves when booking parties at parties, and those guests who were on the fence about booking a show now have an extra fun incentive to commit.
This game kit comes with all the templates you need to offer this game to direct sellers, either as a digital product, or a physical one.
Usage Ideas:
PromotingDirectSales PLR Products are not limited to those interested in building a network marketing team. Low content creators, Etsy sellers, and coaches are welcome as well! If you market TO direct sellers or network marketers in any way, these materials can be altered and reworked to meet your needs.
Print the business card sized printables and resell the physical product
Use the physical product you create as team welcome gifts, or incentives
Create a video how-to guide using the 8.5×11 printables
Repurpose into an email series
The sky is the limit!
The Dice Booking Game Kit Includes:
2-page Dice Booking Game 8.5×11 Printables – Full Color (PDF & JPG)
2-page Dice Booking Game 8.5×11 Printables – Black and White (PDF & JPG)
2-page Dice Booking Game 8.5×11 Printables – Black and White Simplified (WORD)
16-image Set Dice Booking Game Business Card Sized Printables – Full Color (PDF)
Dice Booking Game Product Image (JPG)
Dice Booking Game Promotional Image (JPG)
Dice Game Script (224 words, PDF & WORD)
Just $27!

Promoting Direct Sales PLR License Terms:
All PromotingDirectSales PLR digital products come with Private Label Rights, allowing the buyers to reuse or resell the products in any of the following ways:
Personal Use – implementing the trainings and worksheets into your own direct sales business
Team Use – present the materials to your direct sales team to grow their businesses
Coaching Use – use the materials while coaching 1:1 with network marketers from your company or from others
Resell Use – market the materials to others in direct sales and network marketing and keep 100% of the profits
Altered Use – change the materials and use them in alternate niche markets, such as etsy, KDP, journals and low content, etc
You have full permission to alter and change any PromotingDirectSales PLR product in any way you desire, adding in information for specific companies, teams, logos, etc.
What can't you do with PromotingDirectSales PLR products? You can't freely distribute the materials, and you cannot resell the reseller's rights (meaning, you can't tell someone buying YOUR product that THEY may resell it).