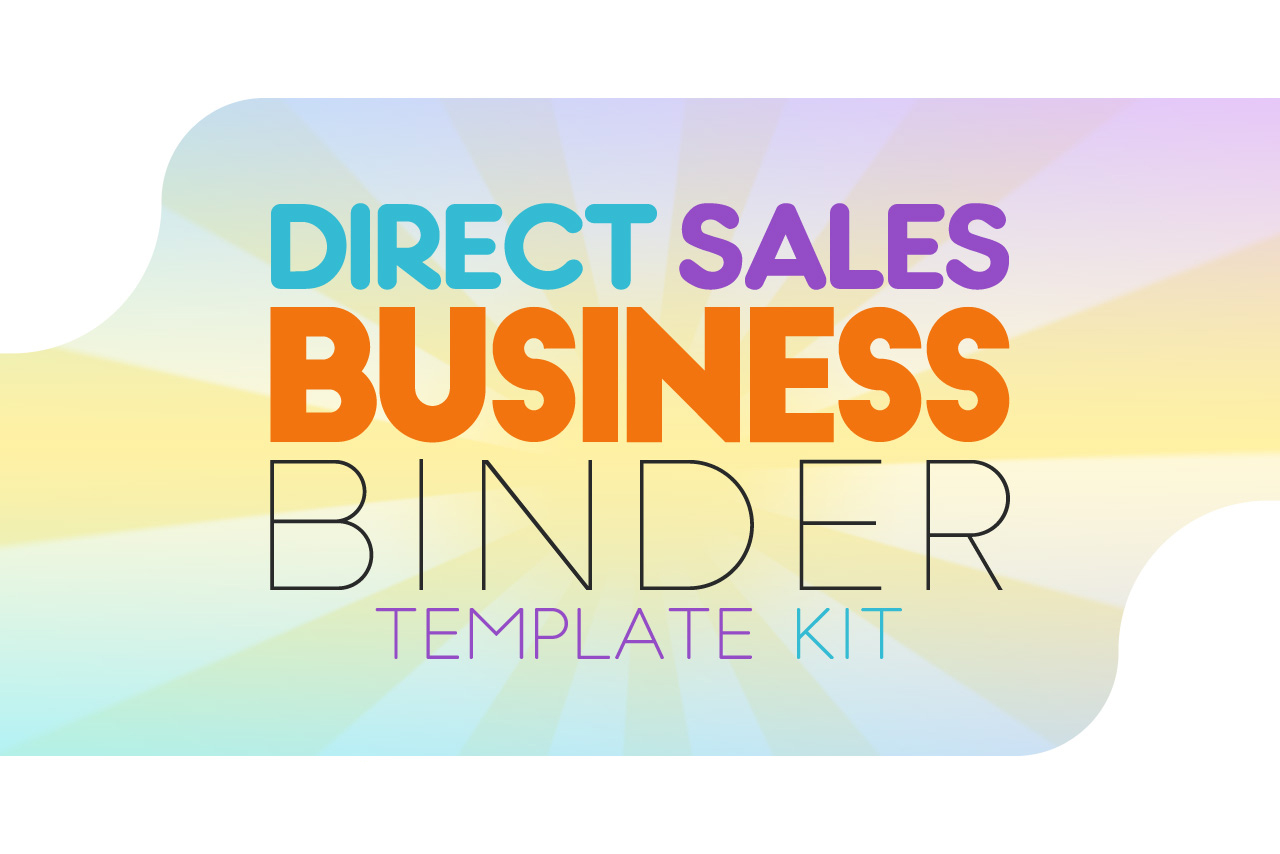 Direct Sales Business Binder Template Kit
Create the perfect printable system for direct sellers with the Direct Sales Business Binder Template Kit. Designed to offer a complete organizational system to network marketers looking to grow their business and follow up with their leads.
Usage Ideas:
PromotingDirectSales PLR Products are not limited to those interested in building a network marketing team. Low content creators, Etsy sellers, and coaches are welcome as well! If you market TO direct sellers or network marketers in any way, these materials can be altered and reworked to meet your needs.
Print off the set, put it into a 3-ring binder, and market the physical book on Etsy or Ebay
Use the worksheets to make a planner for KDP
Create a video how-to guide for each worksheet
Repurpose into an email series
The sky is the limit!
Direct Sales Business Binder Template Kit Includes:
39 Full Color Templates (in Editable PDF)
38 Black and White Templates (in Editable PDF)
38 Simplified Black and White Templates (in WORD)
Where appropriate, a motivational quote is featured at the bottom of each template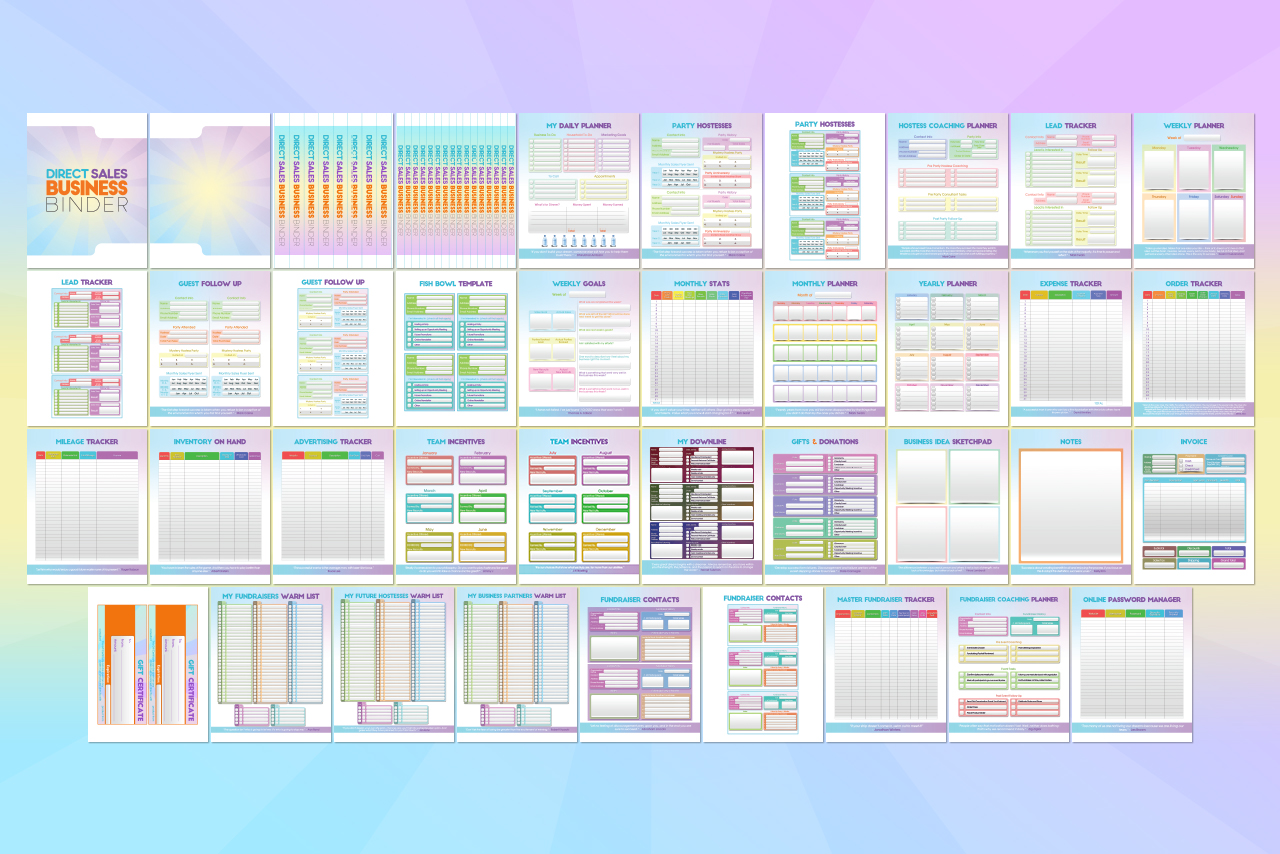 39 Templates Include:
Cover Page Insert – Print this off and put it on the cover of the 3-Ring Binder
Matching Back Cover Page Insert – For the back of the 3-Ring Binder (full-color only)
Spine Tab Inserts – Print these off to place in the spine of the 3-Ring Binder so the binder can be found on a bookshelf. 2 pages. In both 1/2″ and 1″ sizes.
My Daily Planner – Comes with the following fields: business to-do, household to-do, marketing goals, to call, appointments, money spent, money earned and a place to check off the goal of drinking 8 cups of water for the day
Weekly Goals – Planner for weekly sales, party, and recruiting goals. Also has a thought provoking question series to keep focused on business each week.
Weekly Planner – Simple blank weekly calendar format planning page.
Monthly Planner – Simple blank monthly calendar format planning page.
Monthly Stats – Record, daily, for a running total each month,  phone calls made, parties and opportunity meetings booked, new recruits, sales, expenses, profit, and mood. Easy way to see accomplishments at a glance.
Yearly Planner – Month by month list to fill in with goals each year. Where do you want to be 12 months from now? Write it and DO IT!
Party Hostesses (3Ring Binder) – Record contact info, party details, flyer mailing schedule (make sure to mail monthly fliers/new catalogs on a regular basis), mystery hostess invites, and anniversary invites (invite prior hostesses to book a new party every 6 months)
Party Hostesses (Index Card) – Don't like the binder format? Keep track of hostesses in a 3×5 index card box. Print this form on cardstock and they fit right in!
Hostess Coaching Planner – Keep track of hostess coaching goals! Fields for pre-party coaching, pre-party planning, and post-party follow-up. Use these ideas or edit the file to include your own.
My Future Hostess Warm List – Write down 100 people who need to book a party. Now call them!
Lead Tracker (3Ring Binder) – Record information from leads and follow up with them!
Lead Tracker (Index Card) – Same thing, different format. Use what meets YOUR needs.
My Business Partner Warm List – Write down 100 people you know who you feel would make an awesome addition to your team. Call them!
Guest Follow Up (3 Ring Binder) – Keep contact info for guests so that you can mail out flyers, invite them to mystery hostess parties, and increase your sales.
Guest Follow Up (Index Card) – Same info, different format.
My Downline- Keep track of your new downline members and their preferred contact/support methods.
Team Incentives – Do you offer incentives to your downline each month? If not, why? Its a great way to keep people motivated! Record your plans/results here.
Fundraiser Coaching Planner – Keep track of coaching your organization before, during, and after the event.
Fundraiser Contacts (3Ring Binder) – Keep track of all your prior fundraising contacts so that you can offer them another event in 6 months or a year. Remember, these organizations need frequent fundraisers!
Fundraiser Contacts (index card) – Same info, different format.
Master Fundraiser Tracker – Keep track of what events you have going, who to contact, and more.
My Fundraiser Warm List – Write down 100 people you know who need a fundraiser. Next, go through and contact them!
Expense Tracker – Quick page to write down what you spend your money on.
Order Tracker – What orders do you have out there? How many orders have you placed this month, quarter, or year? Track it all quick and easy with this form.
Mileage Tracker – Your business miles are tax deductible! Don't forget to write them down!
Inventory on Hand – Keep track of exactly what items you have for cash and carry, or promotions.
Advertising Tracker – Where are you listed? What is the cost? Is it working? Don't get surprised by any automatic charges you've forgotten about!
Online Password Manager – Never forget your passwords again! Also useful to print off and include in your safe in case something happens to you and your spouse/family needs to get into your accounts.
Gifts and Donations – Do you do charity events? How about dropping off free product for a fundraiser? Or even offering free product for those who take advantage of an opportunity meeting. If you give it away, keep track of it here.
Business Idea Sketchpad – Print off a few of these for notes, doodles, ideas, and more.
Notes – Matching note page to print off.
Invoice – Generic back up invoice for use when you run out of company invoices, or need one for something else.
Gift Certificate Template – Customize YOU!
Fish Bowl Template – So how do you get contact information from potential leads? Well, you do a drawing! At your next event, make sure you put out the old "fish bowl". Use this template as an entry form for a giveaway for some of your products. Leads write right on the form what they are interested in: more info, a party, an opportunity, etc. No guessing games!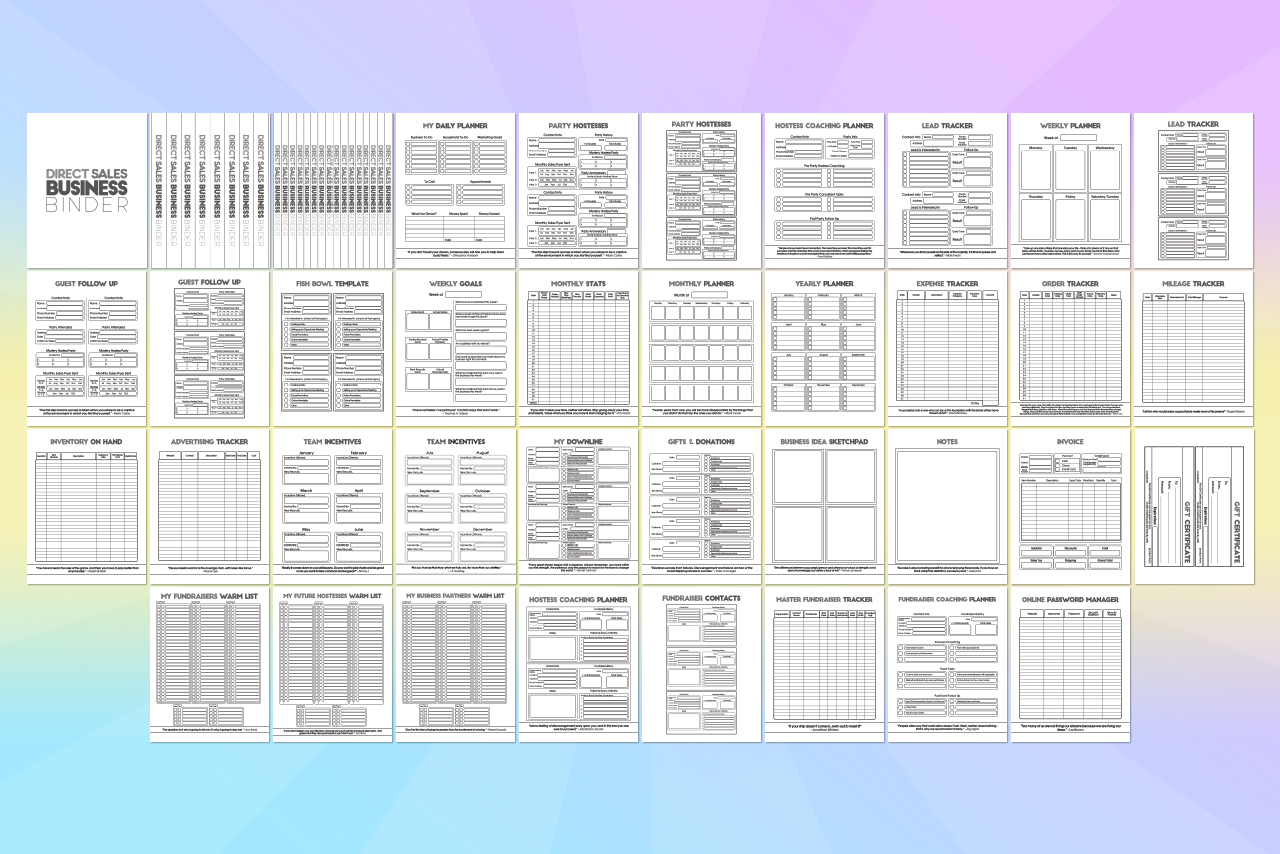 Promoting Direct Sales PLR License Terms:
All PromotingDirectSales PLR digital products come with Private Label Rights, allowing the buyers to reuse or resell the products in any of the following ways:
Personal Use – implementing the trainings and worksheets into your own direct sales business
Team Use – present the materials to your direct sales team to grow their businesses
Coaching Use – use the materials while coaching 1:1 with network marketers from your company or from others
Resell Use – market the materials to others in direct sales and network marketing and keep 100% of the profits
Altered Use – change the materials and use them in alternate niche markets, such as etsy, KDP, journals and low content, etc
You have full permission to alter and change any PromotingDirectSales PLR product in any way you desire, adding in information for specific companies, teams, logos, etc.
What can't you do with PromotingDirectSales PLR products? You can't freely distribute the materials, and you cannot resell the reseller's rights (meaning, you can't tell someone buying YOUR product that THEY may resell it).