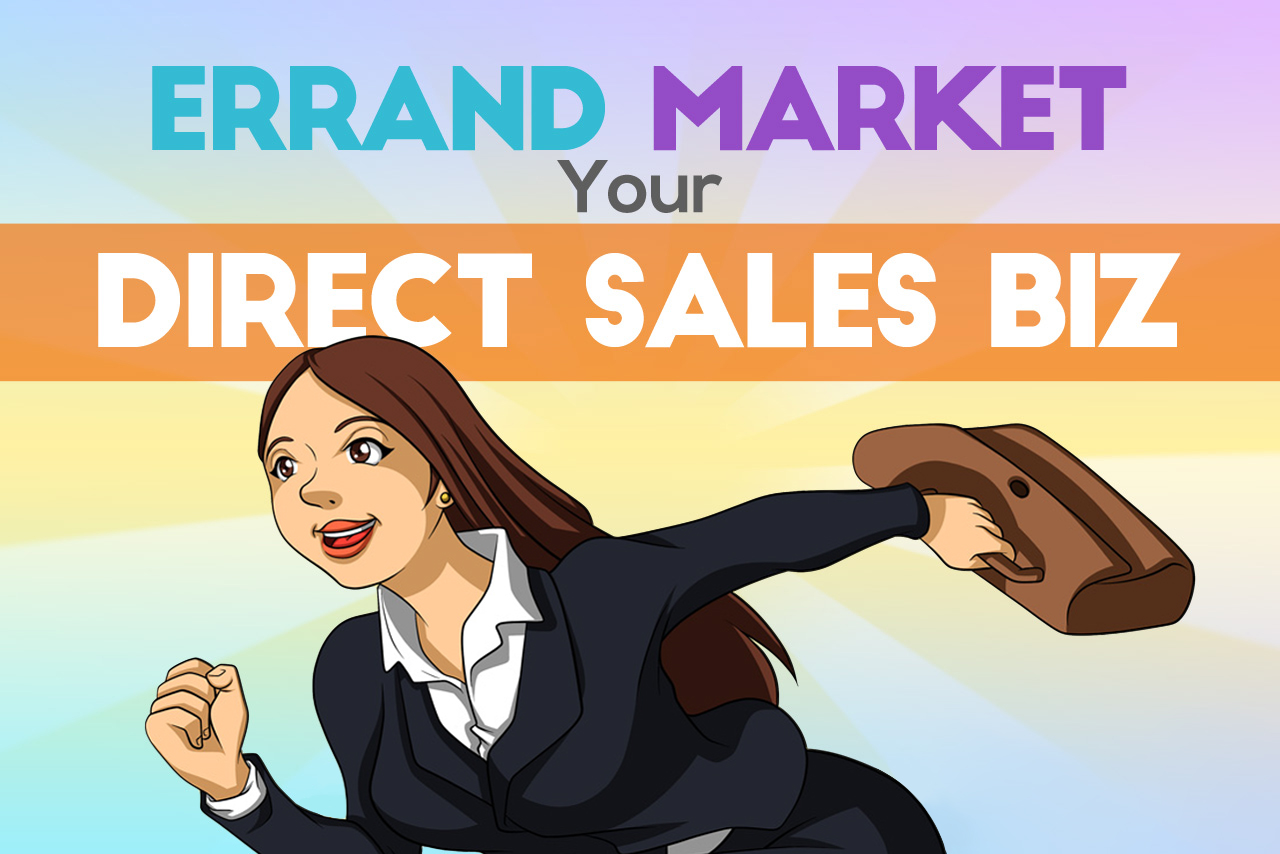 Errand Marketing Your Direct Sales Business Training Kit
Create the perfect training  system for direct sellers with the Errand Marketing Your Direct Sales Business Training Kit. Designed to offer complete training on marketing a direct sales or network marketing business while out and about normal errands and day-to-day activities, Errand Marketing provides instruction and techniques on growing a local business OUTSIDE of the home party model. Training focuses on:
Capitalizing on First Impressions
Recycling Old Catalogs Into New Sales
Utilize Your Car For Marketing GOLD
Unique Ways to Be Remembered
Flyers & Where To Place Them
Mobile Office Strategies
Walking & Talking (this strategy changed my business forever)
Unique Non-Party Party Ideas
Go Fishing! (#1 sales & recruiting growth idea, hands down)
Usage Ideas:
PromotingDirectSales PLR Products are not limited to those interested in building a network marketing team. Low content creators, Etsy sellers, and coaches are welcome as well! If you market TO direct sellers or network marketers in any way, these materials can be altered and reworked to meet your needs.
Take the tips, create a workbook, and market the physical book on Etsy or Ebay
Use the worksheets to make a planner for KDP
Create a video how-to guide for each training topic
Repurpose into an email series
The sky is the limit!
Errand Marketing Your Direct Sales Business Training Kit Includes:
Errand Marketing: Promote Your Direct Sales Business On-the-Go Video Slides (22-slide PPT)
Errand Marketing: Promote Your Direct Sales Business On-the-Go Complete Training Video Script (6,540 words in WORD and PDF)
3 Full Color Worksheets (PDF)
3 Black and White Worksheets (PDF)
3 Simplified Black and White Worksheets (WORD)
Errand Marketing Full Color Full Page Title Graphic (JPG)
Errand Marketing Binder Graphic (JPG)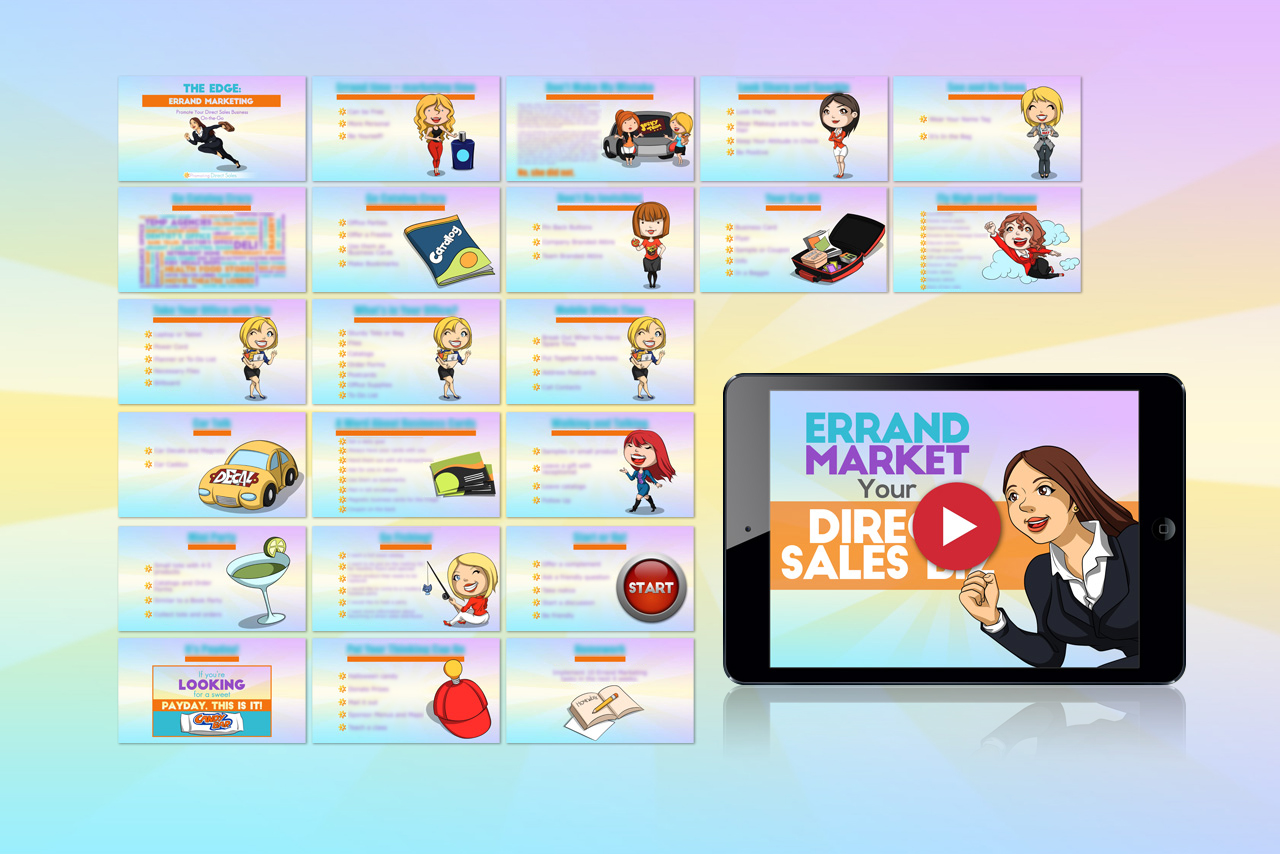 The complete Errand Marketing Your Direct Sales Business was originally delivered as a video training. The entire word-for-word script is included (not pictured) along with a corresponding PowerPoint video slide.  This training can be used in video format, as a webinar, picked apart and presented as a series of blog posts, turned into individual videos, repurposed as a book/workbook/journal/guide, or added to other offerings. You may rebrand it, sell it, or gift it to your team members.
Teach Direct Sellers How To:
Grow their business by focusing on first impressions
Save money and create sales with old catalogs
Turn their cars into marketing machines
Stand out and be remembered by new people they meet
Create flyers to post on message boards that actually work – and where to post them
Grow their business on the road
The hugely profitable Walking & Talking method (note: works like gangbusters – maybe save this as an incentive for advanced training/team leaders)
Ways to do home parties without being at home, or it being a party
Go Fishing! (#1 sales & recruiting growth idea, hands down)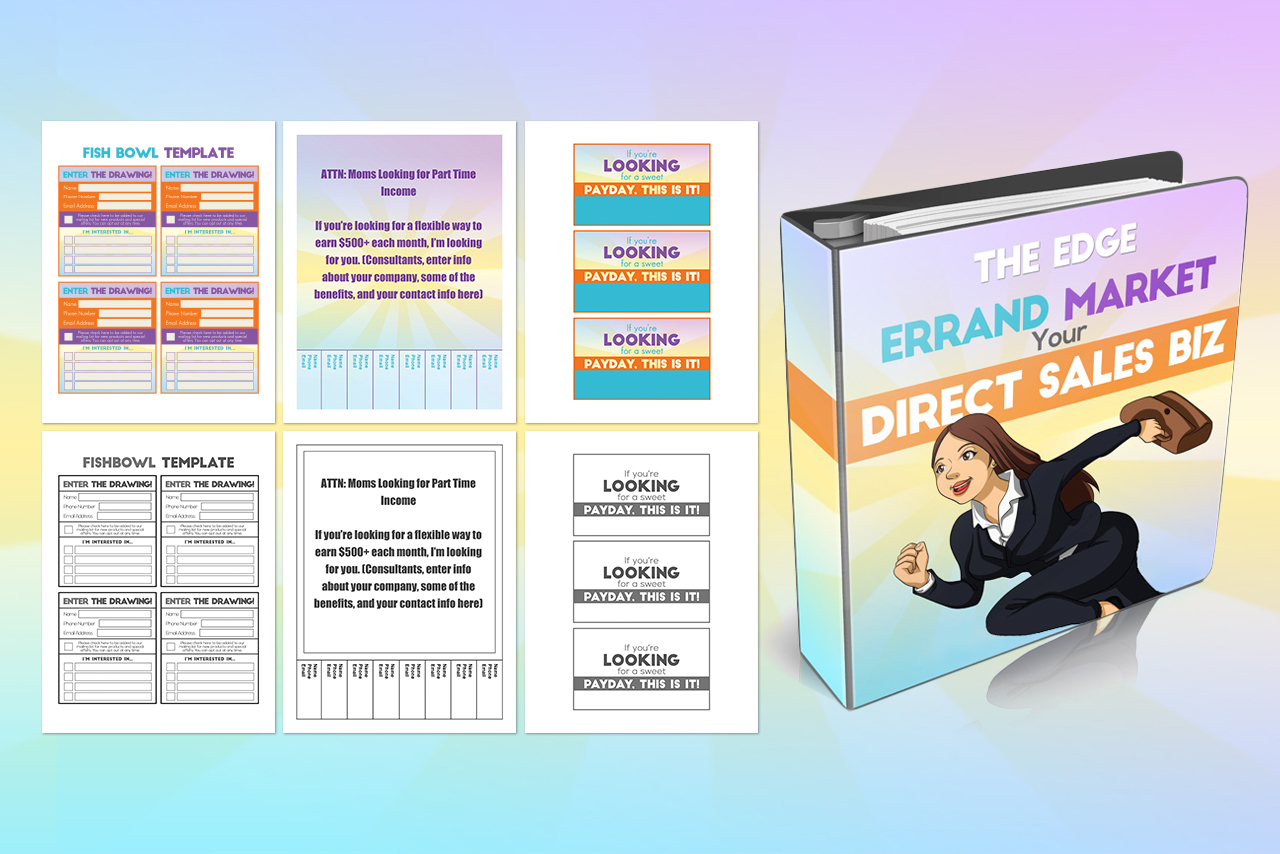 Errand Marketing Your Direct Sales Business Training Kit comes with all the worksheets and graphics you need to start promoting, including:
Fishbowl Template
Flyer Template
Payday Bar Template
Additionally, you'll get title graphics in both binder format, as well as full title page format.
Just $67!

Promoting Direct Sales PLR License Terms:
All PromotingDirectSales PLR digital products come with Private Label Rights, allowing the buyers to reuse or resell the products in any of the following ways:
Personal Use – implementing the trainings and worksheets into your own direct sales business
Team Use – present the materials to your direct sales team to grow their businesses
Coaching Use – use the materials while coaching 1:1 with network marketers from your company or from others
Resell Use – market the materials to others in direct sales and network marketing and keep 100% of the profits
Altered Use – change the materials and use them in alternate niche markets, such as etsy, KDP, journals and low content, etc
You have full permission to alter and change any PromotingDirectSales PLR product in any way you desire, adding in information for specific companies, teams, logos, etc.
What can't you do with PromotingDirectSales PLR products? You can't freely distribute the materials, and you cannot resell the reseller's rights (meaning, you can't tell someone buying YOUR product that THEY may resell it).