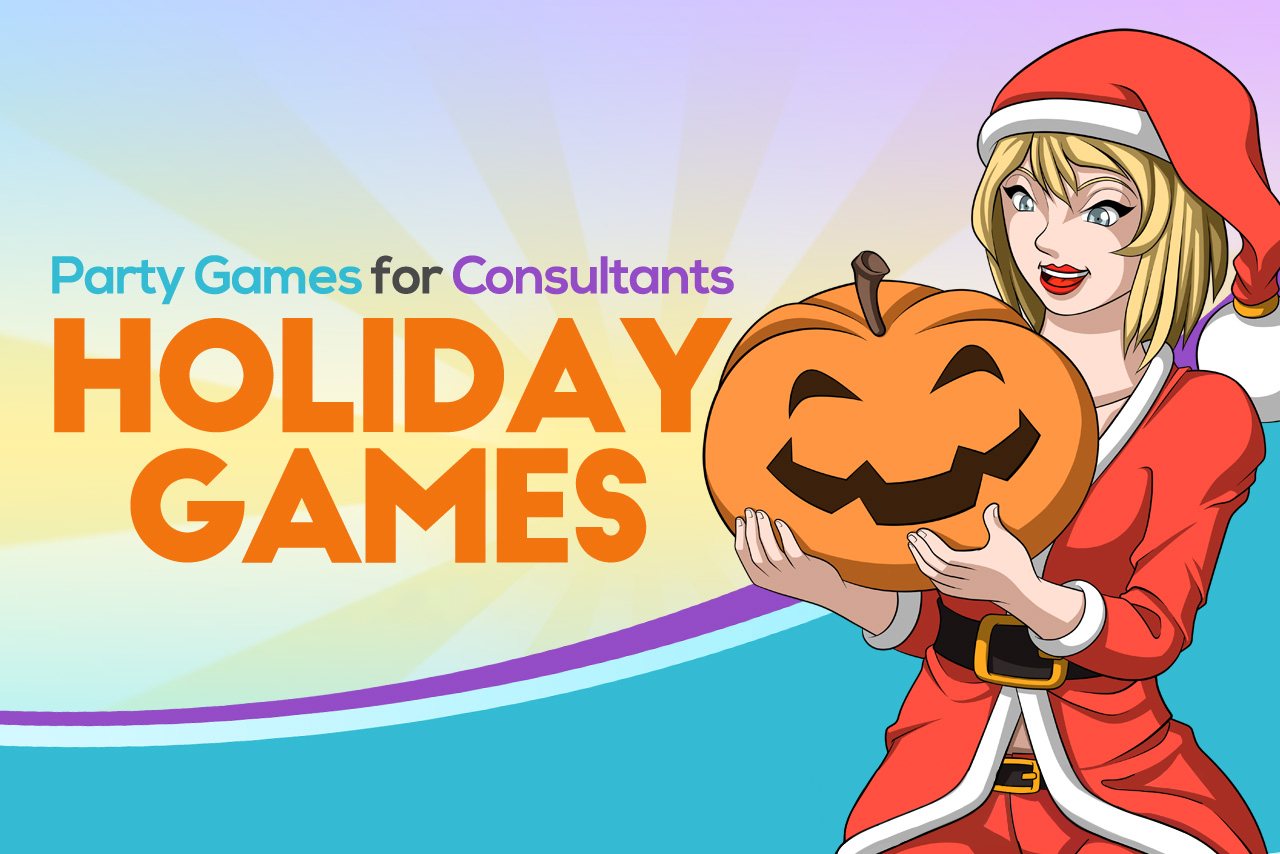 Party Games for Consultants
Holiday Games
What's the best thing that a home party demonstrator can do to boost her party sales? Why, entertain her guests of course! And how do you do that??!!
Well, aside from learning to juggle flaming pineapples and having your pet hamster sing the Blues, the most logical entertainment option is to play fun party games!
The only problem? All the ones you find online seem to be created for children's birthday parties or bridal showers. And the ones you've gone through the trouble adapting to direct sales are getting kinda stale. Never fear! We've got you covered with this fantastic set of Party Games for Consultants.
Usage Ideas:
PromotingDirectSales PLR Products are not limited to those interested in building a network marketing team. Low content creators, Etsy sellers, and coaches are welcome as well! If you market TO direct sellers or network marketers in any way, these materials can be altered and reworked to meet your needs.
Expand on the games and create a workbook
Alter the games to fit a different niche market
Add the templates to another product
Repurpose the graphics into other planners
The sky is the limit!
Party Games for Consultants – Holiday Games Includes
Holiday Games Guide (2,818 words in WORD and PDF – 19 games total)
Holiday Games Full-Color Cover Image (jpg)
19 Holiday Games Guide Header Images (JPG)
21 Holiday Games Guide Accent Images (PNG)
Christmas Riddles Worksheet – Full Color (PDF)
Christmas Riddles Worksheet – Simplified Black & White (PDF & WORD)
Christmas Trivia 1 Worksheet – Full Color (PDF)
Christmas Trivia 1 Worksheet – Simplified Black & White (PDF & WORD)
Christmas Trivia 2 Worksheet – Full Color (PDF)
Christmas Trivia 2 Worksheet – Simplified Black & White (PDF & WORD)
Easter Trivia Worksheet – Full Color (PDF)
Easter Trivia Worksheet – Simplified Black & White (PDF & WORD)
How Many Can You Find? Worksheet – Full Color (PDF)
How Many Can You Find? – Simplified Black & White (PDF & WORD)
Know Your Toys Worksheet – Full Color (PDF)
Know Your Toys Worksheet – Simplified Black & White (PDF & WORD)
Mother's Day Worksheet – Full Color (PDF)
Mother's Day Worksheet – Simplified Black & White (PDF & WORD)
Name That Christmas Carol Worksheet – Full Color (PDF)
Name That Christmas Carol Worksheet – Simplified Black & White (PDF & WORD)
Storybook Greeting Worksheet – Full Color (PDF)
Storybook Greeting Worksheet – Simplified Black & White (PDF & WORD)
Tic Tac Toe Worksheet – Full Color (PDF)
Tic Tac Toe Worksheet – Simplified Black & White (PDF & WORD)
Holiday Games Book Graphic (jpg)