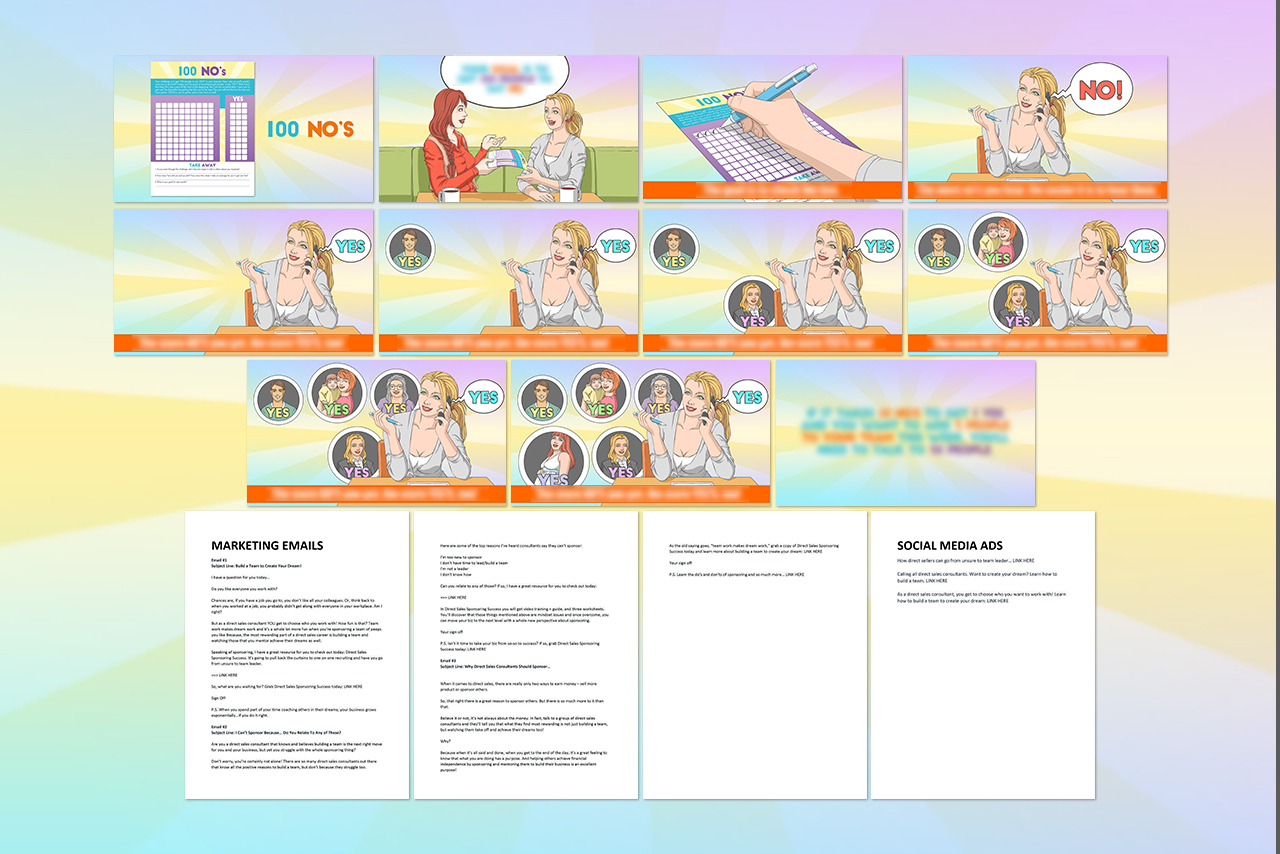 Sponsoring Success Promo Kit
Sales and marketing tools to promote your Sponsoring Success Presentation Kit.
Usage Ideas:
PromotingDirectSales PLR Products are not limited to those interested in building a network marketing team. Low content creators, Etsy sellers, and coaches are welcome as well! If you market TO direct sellers or network marketers in any way, these materials can be altered and reworked to meet your needs.
Use the 100 Nos Video Slides and Script to create a short informational video on how to grow a direct sales business, establishing you as an authority.
Post Social Media Marketing Ads in Facebook groups or create Facebook Ads.
Send the Marketing Emails to your list
The sky is the limit!
Includes:
3 Marketing Emails (611 words in WORD and PDF)
3 Social Media Marketing Ads (60 words in WORD and PDF)
100 No's Video Slides (11-slide PPT)
100 No's Video Script (459 words in WORD and PDF)
100 No's Template (PDF & JPG, in both black and white, and color)

Promoting Direct Sales PLR License Terms:
All PromotingDirectSales PLR digital products come with Private Label Rights, allowing the buyers to reuse or resell the products in any of the following ways:
Personal Use – implementing the trainings and worksheets into your own direct sales business
Team Use – present the materials to your direct sales team to grow their businesses
Coaching Use – use the materials while coaching 1:1 with network marketers from your company or from others
Resell Use – market the materials to others in direct sales and network marketing and keep 100% of the profits
Altered Use – change the materials and use them in alternate niche markets, such as etsy, KDP, journals and low content, etc
You have full permission to alter and change any PromotingDirectSales PLR product in any way you desire, adding in information for specific companies, teams, logos, etc.
What can't you do with PromotingDirectSales PLR products? You can't freely distribute the materials, and you cannot resell the reseller's rights (meaning, you can't tell someone buying YOUR product that THEY may resell it).